500kV Door Shapped Steel Tube Power Transmission Substation Structure
Product Description
Model NO.:
Steel Pipe
MPa Classfication: High Pressure Piping Standard: GB, SGS Medium: Electirc Connection Type: Welding Trademark: CHANGXIAN Specification: according to your drawings HS Code: 73082000 Temperature Classification: According to Your Request Material: Galvanized Iron Pipes Diameter: Customized Cross-Section Shape: Round Other: with Firewall Transport Package: According to Your Remand Origin: Shandong Province, China First , Material
1, Steel cut off its fracture shall not have cracks and greater than 1.0mm of missing edge, cut off the cutting plane is 0.05T (t thickness) and not more than 2.0mm, cut depth is not more than 0.3mm, keep the local gap depth error of 1.0mm. And should the burr removal shearing or cutting fused tumor, spatter etc. To achieve smooth, smooth, no burr around.
2, After blanking, the parts should be according to the code, the tower type name, part number, date, four parts of the order, marked by steel character molded printing, between each part should leave a vacancy.
3, After galvanized, imprint depth should be clearly, neatly arranged. Stamping depth according to the thickness of the material should be controlled between 0.5~1.0mm; the steel surface shall not have stamping concave or convex, and there shall be no crack or notch on the edge. The welding assembly parts, should be avoided after assembly welding Mark are covered. Steel grades should choose the position without holes in the component, that not easy to avoid , can mark after drilling . a component
does not allow marked several kind of steel grade at the same time.
Second, bending
1, After bending the member, steel edge should be smooth transition, the surface may not have obvious wrinkle, concave and damage, surface scratch depth should not be greater than 0.5mm. Not allowed to use oxygen acetylene cutting nozzle baking bending.
2, After bending the member, camber shall be conform of the GB2694-2003 "transmission line
Iron Tower
manufacturing technology" .
Third, drilling
1, stamping the surface may not have obvious concave defect, burr is greater than 0.3mm should be clear.
2, finished hole workpiece does not allow any leak, porous and long hole (special exception), are not allowed to have wrongly punch welding exist.
3, when tower member drilling hole, can be used in punching process, but the member of when the material Q235 thickness of 16 mm ,the material Q345 thickness is 15 mm and above drilling, holes must use drilling or punching is less than the specified diameter 3 mm, then drilling and reaming to the specified aperture. The allowable deviation of drilling shall be conform with GB2694-2003 "transmission line iron tower manufacturing technology".
Fourth, incisal angle and limb, root cleaning shovel back and groove
1. the member should eliminate shear burr or cutting in incisal angle and limb after tumor, weld spatter, permissible deviation angle cutting edge shall be conform with DLGJ136-1997 "power line tower structure drawing and regulations" provisions.
2,The allowable deviation of root cleaning shovel back and groove shall be conform with GB2694-2003"transmission line tower manufacturing technical conditions".
Fifth, assembling, welding
1, assembly code should be arranged in neat rows, all parts should be straight. Welding assembly deviation should be allowed to meet the GB2694-2003 "transmission line tower manufacturing technical conditions".
2, in addition to the special requirements in figure, welds must be fully closed, does not allow leakage solder. Geometry of weld must meet the requirements of the drawings, shall be connected with the parent material smooth. The welding appearance quality of all inspection, and shall be in accordance with the GB2694-2003 "transmission line tower manufacturing technical conditions". Requirements for welding quality grade two and above the weld should according to the provisions of GB2694-2003 "transmission line tower manufacturing technical conditions" standard of inspection.
3, The butt weld full penetration weld size and composition deviation should be allowed to meet the GB2694-2003 "transmission line tower manufacturing technical conditions", partial penetration welds and fillet weld size combination deviation should be allowed to meet the GB2694-2003 "transmission line iron tower manufacturing technical conditions" .
4, Influence of welding defects galvanizing quality should be grinding or welding, welding and repair welding shall maintain between a smooth transition and the original weld . Weld sense should be achieved: uniform shape, forming good weld bead, bead, and with the base metal transition is smooth, welding slag and spatter basic clean. Welded components after hot dip galvanizing , not "yellow water flow".
Sixth, trial assembly
1, Before all the tower in batch production, should first producted one based carried out trial assembly test.
2, trial assembly should be used in horizontal or vertical, the tower leg, tower body, tower head should assemble the four surface.
3, when trial assembly all parts should bein free state, can not be forcibly assembly. The tower components an important engineering Rate of in place reached 100%. The number of bolts should be able to ensure component positioning and each hole is not less than the 30% of the total bolts group.
Through hole is used for checking through hole rate of the stack hole , when the test hole device check
bolts with large nominal diameter 0.3mm, via each hole rate is 100%.
4, Test after assembly shall meet the requirements of design drawings.
Seventh, galvanized
1, Before galvanized should be Pickling, pickling solution should be every day a second test, in order to control the concentration of acid solution. zinc bath for hot dip galvanized mainly by molten zinc . The total impurity content in molten zinc (except iron, tin ) should not exceed 1.5% of the total mass of the impurities, see GB/T470 regulations.
2, Zinc layer of color is grey or dark grey. Zinc surface color consistent and should have practical smooth, continuous and complete coating, there shall be no nodulation, burr, product defect harmful zinc and sharp point etc usage defects,and shall not have the over pickling and iron leakage defects.
3, Plating zinc thickness measurement by sampling measurement, should select 12 points at different positions, take an the average. The plating thickness is less than 5mm, zinc thickness should be larger than 65 μm, the plating thickness equal to or greater than 5mm, zinc thickness should be larger than 86 μm. Do hammer test after the zinc layer should be no shedding, no peeling, no convex.
4, Each galvanized, should do the different specifications of the specimens of each piece, copper sulfate test was carried out according to the requirement of GB2694-2003, the determination of zinc layer uniformity. The copper sulfate test 4 times without dew iron, namely qualified.
5, Repair: Repair of the total leakage plating area shall not exceed 0.5% of the total area of each plating pieces, each repair leakage plating surface should not exceed 10 cm ², if plating leakage area is larger, these components should return plating. repair method can be repaired by using the thermal spray zinc or coated with zinc rich coatings, the thickness of repair-layer should be than 30μm above of the minimum thickness of layer required to galvanized layer .
Eighth, inspection plan sampling:
Semi finished products should sampling inspection according to the classification of the tower type (of the same type tower with multi, multi batch to number range), the sampling plan as described in the following table: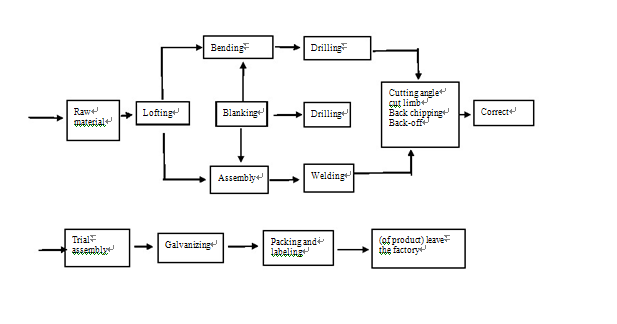 Ninth, packaging technology assurance measures
To ensure the quality of product delivered to the customer hands, especially the anticorrosion layer will not be reduced, Shandong Huaan iron tower Co., Ltd Adopted a series of measures to packaging, packaging classify of products, achieve good results.
Tenth, fast and efficient after sale service
Shandong Huaan iron tower Co., Ltd leadership attaches great importance to customer service, and customer service service quality as the extension of product quality. After sale service of software and hardware configuration gave high attention. At present, Shandong Huaan iron tower Co., Ltd has a number of high quality, first-class technology after sale service personnel. Fully capable of providing emergency treatment and other services to customers, the installation work quickly and efficiently with the user to complete various tower. Contact us if you need more details on Substation Architection. We are ready to answer your questions on packaging, logistics, certification or any other aspects about Steel Tube、
Substation Structure
. If these products fail to match your need, please contact us and we would like to provide relevant information.
Product Categories : Substation Structure